Hope in the midst of the Pandemic
Hope From Within stepped up to hold the hands of patients and caregivers through Project Stronghold, a sub-campaign whose focus is to provide reliable information and support for those navigating their cancer journey, while trying to survive COVID-19.
"Cancer was never on lockdown. During pandemic, we need to stay hopeful. We need a good cancer game plan while maintaining safety protocols. We, the Philippine Society of Medical Oncology, are here to help."
— Dr. Herdee Luna, Medical Oncologist
It's not a choice between cancer or COVID. You can get the care you deserve.
— Dr. Ellie May Villegas
Stronghold: Cancer Care in the time of COVID 19
Cancer is not a death sentence, even during these unprecedented times. Keep the Hope from Within alive and ask your doctor about continuing treatment today.
A reminder to keep the #HopeFromWithin alive and schedule your appointments ASAP! When it comes to beating diseases like cancer, continuity of treatment is important.

Healthcare centers often follow the strictest health and safety protocols to keep you safe.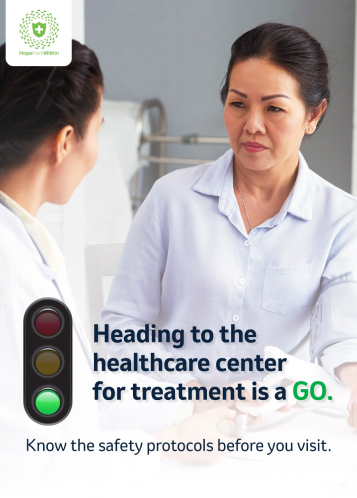 At this time of pandemic, healthcare centers are full with COVID19 patients. Protect yourself and your loved ones by minimizing your exposure outside. Maximize TELEHEALTH. Nowadays, it's your best first line of defense!

Give your doctor a call about psychological support, symptom or complication consultation, and general inquiries for new and suspect cases. The more you know without stepping out of the house, the safer you'll be.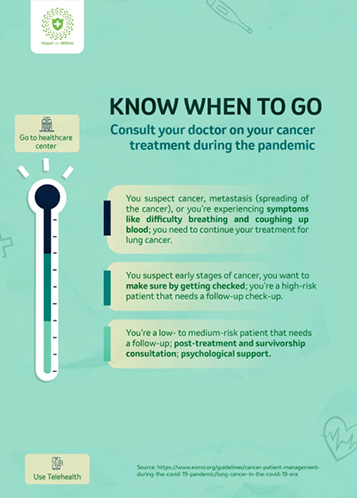 ONE NEWS Featuring Dr. Arthur Lui
Dr Arthur Lui highlights the importance of prioritizing the continuity of cancer care in the midst of the COVID-19 pandemic since cancer patients are more vulnerable to severe complications due to the virus.
BOMBO RADYO Featuring Dr. Arthur Go
Dr. Arthur Go provides information that will help cancer patients and caregivers navigate the treatment journey together with physicians during COVID-19.
CNN Featuring Dr. Gerardo Cornelio
In this interview, Dr. Gerardo Cornelio talks about how hospitals are adapting to the current state of health to meet the needs of cancer patients during COVID-19 pandemic.